Top 10 Special Education Training Institute in The World
16th May 2019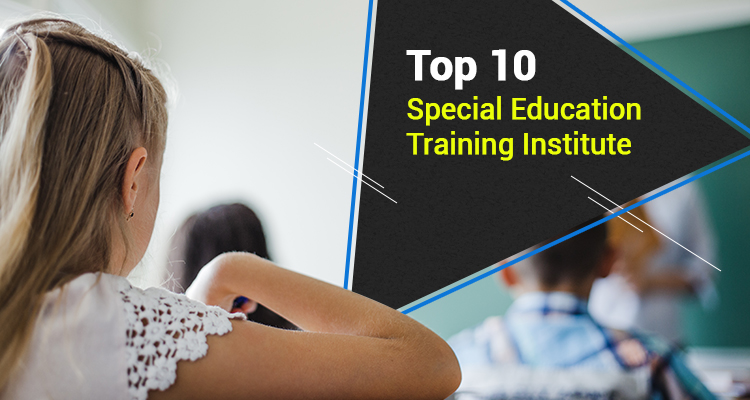 Special education teachers get to experience tremendous satisfaction from their work when their daily duties to provide a means of success for disadvantaged children. Additionally, they also get to have a positive impact on the various stakeholders in the life of a little child such as his parents, teachers, and other community members.
Best Special Education Training Institutes
Thanks to the sensitive nature of work that is special education training, the pertinent personal characteristics required as well as specialized skills, those undergoing special education teacher training often is eligible for financial assistance through scholarships and grants. With the help of this assistance, they can offset the schooling costs and turn the degree into a great return on their investments. Here is a look at the best places where SEN teachers can get a good training for their professional careers.
Vanderbilt University: Situated in the city of Nashville in Tennessee, Vanderbilt University provides students interested in helping learning-disabled students an opportunity to earn their bachelors in science from one of the most well-recognized special education institutes. Multiple specialty areas are offered, including moderate and mild disabilities, visual impairment, as well as severe and multiple disabilities. The university has a traditional semester pattern with most full-time students completing their course within four years.
University of Wisconsin – Madison: The University of Wisconsin-Madison is a great place for those who aspire to become special education teachers, providing a bachelor's degree in special education courses and guaranteed job placement. The license allows teaching to adolescents, early adolescence, and middle childhood students. A dual major is also provided where the candidates can become certified elementary teachers. Additional coursework may be required in that case.
The University of Texas at Austin: At the University of Texas in Austin, candidates are given a bachelor of science in applied learning and development as part of the All-Level Generic Special Education Program which is unique to this institute. This allows the graduates to teach K-12 children having a varying degree of disabilities. Students are required to complete 1500 hours of field work which are well in excess of the minimum state requirements. This special education teacher training also involves teaching a class of special needs students. Career services are also provided to the SEN teachers, including resume writing, job fairs, mock interviews, and cover letters.
University of Maryland – College Park: This place is regarded as one of the best for special education training, striving to develop teachers who are highly qualified and capable of meeting the needs of those students faced with severe disabilities. Students are allowed to earn their BS in either elementary and middle special education or early childhood special education within four years, if necessary, in less than that time. Field experience is required in both the courses offered. While the certification is provided in Maryland, candidates are allowed to teach in as many as 49 different states.
University of Minnesota – Twin Cities: The Twin Cities campus of the University of Minnesota offers a bachelor of science degree to the special education students. A 120-credit course, this is usually complete in four years by the students. While a preset path to graduation is the norm, a customized experience can also be created by students with the help of a counselor, though these alterations often lead to the program becoming longer than usual. Special education teachers graduating from here are allowed to work with individuals in the range of early childhood to those aged 21 years.
University of Illinois: University of Illinois, at its College of Education, has one of the best special education degrees on-campus for undergraduate candidates. Candidates who are capable of proving their commitment towards helping disabled students are highly valued members of this elite special education training program. Students are required to have a minimum experience of 50 hours for enrolling into the program. Upon completion, licensure in the state of Illinois is provided. A traditional semester schedule is followed, and SEN teachers get to earn their degrees in four years.
Ohio State University: Ohio State University is home to the College of Education and Human Ecology and their special education degrees are among the best on-campus courses for those students who take an interest in serving disabled candidates. Graduates earn a bachelor of science in special education and the skills and knowledge garnered are enough for passing their licensing exam. The candidates are further required to engage in field-based activities for a practical learning experience and teach special needs students to make them better equipped for the eventual job they take up.
Michigan State University: The Michigan State University College of Education offers a five-year bachelor of arts degree in special education that makes candidates eligible for a K-12 endorsement and a license for elementary teaching. When graduating, students are backed by over 1000 hours of field experience. A rigorous internship is provided in the fifth year that allows graduates to become a part of the workforce with all the preparation they need. Many faculty members are also afforded the opportunity to work with local communities and schools where students get to earn valuable mentorship and experience opportunities.
University of Georgia: Those who possess an affinity towards helping special needs students can earn a bachelor of science in education from the University of Georgia, regarded among the best special education teacher training providers in the world. Though the courses are focused on specialized areas, students are required to complete a minimum nine hours of practical learning and 15 hours of student teaching. Every semester, there are field engagements. A cohort style format and small class size are the other areas that help benefit the students with a collaborative and supportive environment to learn in.
Brigham Young University: Brigham Young University's McKay School of Education provides a highly qualified special education training that is capable of meeting the needs of the student facing disabilities. Students are required to complete a practical learning course for six weeks in the summer along with a student teaching internship. There are certain prerequisites for this course, including a minimum of 10 volunteer hours with moderately disabled individuals and another 10 hours with those having a severe disability. Multiple foundation courses also need to complete as part of the prerequisite.