What Are the Duties of Special Education Teachers?
9th May 2019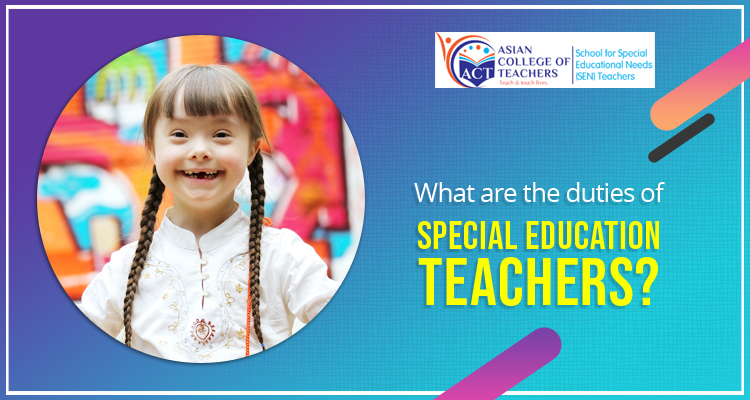 An inclusion classroom is one where students with special needs and disabilities are given a formal education alongside those students without any disability. To help these special students meet their needs, a special education teacher is usually appointed to work alongside the general educator in an inclusive classroom environment. The role of the educator in special needs education varies as per the needs of the individual students as well as based on the kind of working relationship the two teachers are able to build between themselves.
Roles a special needs teacher is expected to fulfill
Lesson planning
An ideal inclusion classroom is one where the special education courses are co-planned by the regular education teacher and the faculty appointed for special education training. They work together for designing the lesson plans that fit in with the needs of every student irrespective of their abilities or shortcomings with the special needs person focusing on SEN courses that meet the needs of the special students. The general education teacher may, in certain cases, plan the classroom lessons while the special needs teacher focuses on adapting the lessons so as to better meet the needs of those with disabilities. She may also put these lessons to use for developing review materials or planning one-on-one instructions with the special needs students after or before the class hours.
Specialized instruction
The amount of actual instruction actually provided by a special education teacher in an inclusion classroom tends to vary. An inclusion classroom generally requires that the two teachers take their turns while presenting the lessons to the classroom. This could either be the practice adopted on a daily basis with each teacher being asked to handle a portion of the lessons, or the special needs teacher could be teaching the class for a maximum of a couple of days every week. When not involved in teaching the entire class, he or she could simply take a seat next to the students and provided them additional instructions or on-to-one assistance. To help the students get a better, more inclusive feel of the class, the special needs education provider should avoid being present in the classroom on a regular basis unless, of course, the condition of the student demands it.
Classroom management
Even though a special needs teacher's primary job is to focus on the needs of the special students in the classroom, the responsibility also entails providing help to the general education teacher in terms of bringing better management to the classroom. Other students must listen to and respect the authority held by the special needs educator. He is also responsible for laying down the lay and rules in the classroom while also developing the daily routines. In short, the special needs teacher must work with the general education teacher for creating a classroom ambience that beneficial even for the students who come with special needs. His job also requires him to be aware of the behavior of individual students and provide them with relevant disciplinary action.
Other roles and responsibilities
As a special education teacher, you may be faced with responsibilities that others do not have to deal with. Your job could require you to regularly develop and review Individualized Education Plans or IEPs as well as conduct meetings where you discuss such plans with the parents, counselors, administrators, or any other individual who may be involved in the education of the child who has special needs. You may also be called upon for administering regular skills tests and conduct other similar assessments that help in determining the progress being made by the special needs student or for determining if any of the students not yet enrolled to SEN courses are in need for such services. It's the job of the special needs education provider to ensure that various laws with regards to providing education for those with special needs are followed precisely and there is no violation of the same in any respect.
Typical work environment
As a special needs educator, you are most likely to find work in a public school while some could also get employed with a private or charter school. You may also find a job where you are required to work with young children in daycare or childcare centers.
It is not uncommon for these facilitators to find work in students' homes, hospitals, or student residential facilities and could demand significant amount of travel on the job. Some even work at the child's home with toddlers and infants. They also educate the parents on ways and methods that can help them in developing their skills.
Helping students who have disabilities can prove to be a highly rewarding job. Nevertheless, it is a very stressful life, draining you both physically as well as emotionally.
Expected work schedules
This job will require you to typically work during school hours. During this time, you will have to prepare lessons, update the student records, and grade their papers. You may also be required with parents to discuss their wards progress, meet individually with the students to discuss issues, or meet other teachers before and after the class hours for administrative reasons. The traditional 10-month school year is what you will most likely be asked to work with a 2-month break during the summer season. In districts, a year-round schedule usually involves 8 weeks of continuous work followed by one week of break and a 5-week break midwinter.
As a special education teacher in a public school, you will be required to possess a minimum of a bachelor's degree and a state-issue license or certification. Private schools require that the teachers have a bachelor's degree, but a license is not mandatory.
Job opportunities tend to be higher for certain specialties while candidates with early childhood intervention and experience in working with those with multiple or severe disabilities and autism spectrum disorders are also more in demand.