Benefits of Special Education Course
10th April 2019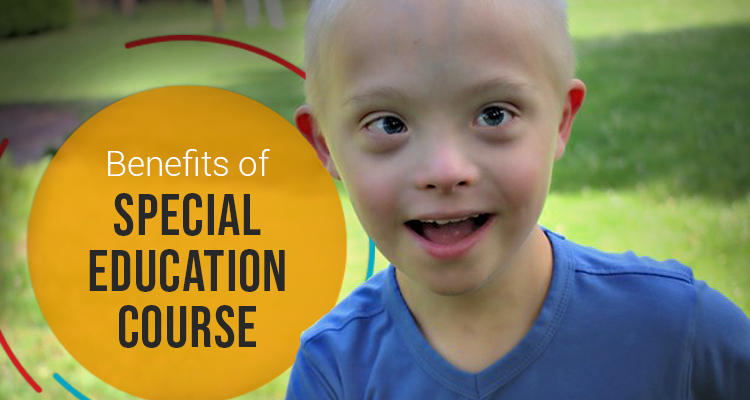 Special education refers to a non-mainstream form of schooling usually provided to those with learning disabilities or difficulties with the use of a proper educational setting. Being a part of the special education teacher training and subsequently opting for a career as a special education teacher calls for a great deal of patience and skill. Nevertheless, it can be wonderfully rewarding if taken up by the right kind of person. Special education courses are designed for both adults and children with varying degrees of learning disabilities where advisors and teachers must pay special attention to their requirements.
SEN courses in India are considered to be very challenging with all the cultural and social stigma attached to it. However, with changing times, a greater number of individuals are opting for this career and undergoing the required training after which they get to hone their talents and skills in a trying environment.
Benefits of Taking Up Special Education Courses
An additional certification opens up more job avenues:
A special education teacher is required to have a license which usually takes considerable amount of time and money. A special education teacher training may seem like a hustle for someone who is already into the teaching profession. It is worth noting that doing special education courses open up many new avenues and add to the professional advantages of individuals. The additional requirement of a certification makes teachers opt for a different subject to what they already have, increasing their diversity in the education world. This helps their employment opportunities in future which is a boost for their career plans.
More jobs become available:
While teachers in standard classes have a considerable number of job options, those having a special education certificate almost always find suitable job openings in schools. Often, teachers have been found backing out from taking special education classes because of the additional responsibility and difficulty it brings to the table. There is also the emotional side of things that one needs to think of after completing special education teacher training. An enthusiastic and certified special education teacher will find it easy to land a suitable job anywhere in the country.
Be a part of the joy that comes with teaching:
As a special education facilitator, one often experiences a tough time compared to other teachers – not only are they responsible for teaching a curriculum but they may also find themselves working with students who have emotional and behavioral issues. This is a problem more evident in classrooms that are demarcated as for special needs students rather than one where students have not been diagnosed for such conditions. Someone teaching special needs students will find it harder to manage a classroom though they develop into more patient individuals in the long run.
Dealing with shorter work days:
It seems to be the norm with most special education courses that they have shorter school days compared to the average school day while also providing greater flexibility in terms of curriculum and lesser requirements for the classroom. This is a benefit that many special education educators look to make the most of, enjoying the greater free hours that help them balance their personal and professional lives better. A relatively lenient school schedule allows teachers to step away from the grind of their regular jobs to lend greater focus to the daily roles they must fulfill with the children having special needs.
Those keen on having a job that is somewhere between part-time and full-time, earning certification of a special needs educator will go a long way in fulfilling their ambitions.